A lie told by partisan Alaska blogger writer Matt Buxton has also made its way as factual evidence into the official court record in a case involving Anchorage's political redistricting.
Eva Gardner, the lawyer proposing the same lie as Buxton, has now presented it in her brief to Superior Court Judge Thomas Matthews. It seems the blogger and the lawyer coordinated, with the Gardner letting the blogger lead the lie, and then the Gardner repeating it as fact to the judge.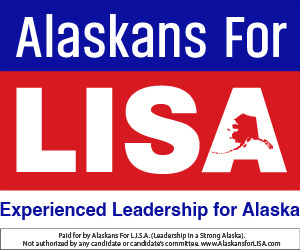 Buxton, who attacks Must Read Alaska as one of its main lines of business, wrote in a story this week that a writer for Must Read Alaska had labeled two members of the Alaska Redistricting Council "top notch female dogs" in an email to Alaska Redistricting Council member Budd Simpson.
The record unequivocally shows (story below) that the accused MRAK author made no such claim, and although Buxton's story was picked up by the recently launched partisan blog Alaska Beaconand by other mainstream media, the lie has now reached even further – into the courts themselves, via a brief filed by the lawyer opposing the redistricting map that places Eagle River and Girdwood in the same Senate district.
Read: Big Oops: Partisan Alaska Beacon passes on partisan blogger's lies
The attorney promulgating Buxton's lie to Judge Thomas Matthews concluded from the lie that "Member Simpson appears to have been preoccupied with partisan politics and the preferences of various political parties in a way that improperly influenced his vote for the option 3B".
In other words, Gardner and Buxton made false claims, allowing Gardner to draw false conclusions:
The redistricting board is defending itself against challenges to its final maps for Anchorage, which it adjusted after Democrats sued the first Senate districts the board drew.
Every 10 years, political boundaries change in Alaska, to equalize population areas as they are represented by members of the House and Senate. The current redistricting process began last August and was finalized in November, but legal proceedings have prevented the map from being finalized. Only one remaining dispute is before the court, and it concerns the Anchorage Senate districts that Democrats are trying to push for their own interests.
Judge Matthews is expected to rule by Monday, but is working with an argument that uses a partisan blogger as a source document, and who offered a lie in an attempt to change the redistricting result.
That in itself will clear a path for the Redistricting Board to take the decision to the Supreme Court and expose the coordination between Buxton and plaintiffs' counsel.