One of four mutilated bodies discovered in the Kijabe Forest was positively identified on Monday June 20 as that of Frank Obegi, a popular Kenyan blogger and influencer.
Talk to Kenyans.co.ke his brother Leyton confirmed that a close friend of the deceased had identified Obegi's body at the town morgue, adding that the family only learned the sad news after news coverage on Sunday evening 19 June.
The brother said the family, who are based in Kisii, were unaware the blogger had been missing since Tuesday last week – and was wanted by his friends in Nairobi where he was based.
Nairobi City Mortuary
Case
On Monday morning, a friend in town called the family to inform them that their relative's mutilated body had been found at the town morgue.
"I received the news this morning from a friend who was close to him and knew his whereabouts. The lady who informed me of his death had gone to City Mortuary and confirmed it was him" , he revealed.
Leyton added that he last spoke to his brother on Tuesday, June 14 – the day he later found out was the last time Obegi was seen.
The brother added that he was unaware that his deceased brother, who was still online, had gone for days without posting and that Obegi's accounts had been deleted under unclear circumstances.
"He's been missing since Tuesday. That's when he was last seen online and that's when I received the last communication from him. It was when I learned of his death that I realized he had remained inactive on social media. He was very active on social media, but his accounts have since been deleted," added the brother of the deceased.
Leyton added that Obegi did not disclose any threats to his life. He revealed that the family lived in Kisii and only kept in touch with their son by phone.
Asked if the officers have reached out to the family, he said no communication has been made so far. However, he noted that arrangements were being made by the parents to travel to Nairobi.
On June 20, police launched investigations after four bodies were found abandoned in Kijabe Forest, Kiambu County, over the weekend between Saturday June 18 and Sunday June 19, following a complaint from the residents of Lari.
Lari Police Commander Adamson Furaha confirmed the incident, adding that officers had been deployed to locate the killers believed to have tortured the victims, whose bodies had deep cuts and missing private parts.
Furaha noted that preliminary investigations indicated that multiple homicides were committed elsewhere before the bodies were transported to the forest.
"We suspect the four were killed elsewhere and their bodies dumped in this area. All four bodies had deep neck cuts and severed private parts. We are now scared because it is new to this area," said one of the residents, Philip Kamau. Nation.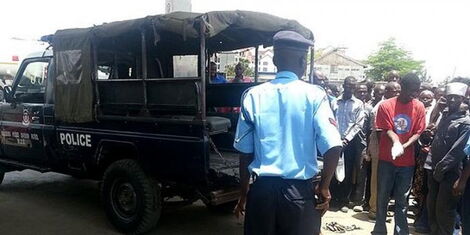 A Kenyan policeman photographed at a crime scene.
Kenyans.co.ke
homicide death kill suspicious